There are probably many people who are yet to discover Burdastyle. com. I came across it by chance and I was so excited when I saw the content present on the site. From that day forward my life was never the same. I almost always check into Burdastyle every day. I was able to browse through the sewing creations of other sewing enthusiasts and to learn new techniques. Through my browsing I've learnt so much and I've discovered many great fabric stores, sewing blogs etc.
I am now starting to use the patterns section where I can buy build yourself patterns to make lovely burda creations. Not all the patterns tickle my fancy but they have quite a variety with new ones coming out more often that any person can keep up with.
My first "big" purchase was the Matthew Williamson Dress. I found the dress to be quite tantalizing to my fashion taste buds. This UK designer has a great Autumn / Winter 2012 collection and I think I'll start following him more closely.
Below is the original dress from the Matthew Williamson website. It costs

£

1,195. I must thank him for making his pattern available for purchase :)
The Imperial Eagle Liquid Silk Fitted Lady Dress features a cut out V back detail, leading into a metal zip to fasten. A centre back vent at the skirt allows movement in this close fitting dress while the statement engineered print features throughout turns a staple dress into an eye catching addition to your winter wardrobe.
Here is the pattern of the dress. It has very interesting side inserts, with pockets.
I made my version of the dress in a metal blue satin. I reversed the fabric at the side inserts for a more interesting look since I did not want to use a patterned fabric. The dress was not difficult to construct at all and for my first time with a more complex burdastyle pattern I was able to follow through okay with the pattern directions. The challenging part for me was putting those individual A4 pages together to create the pattern pieces.
The end result was lovely. I had some minor adjustments to lengthen the bodice and the skirt for my height and at the shoulders for my smaller bust. It's a slimming dress that has the ability to make a waistline look smaller. The V to the back of the dress is quite daring and flattering. I'm looking forward to wearing it to go somewhere; Christmas is coming!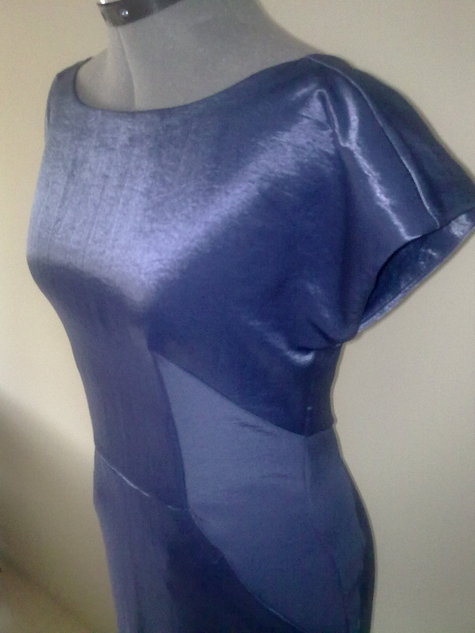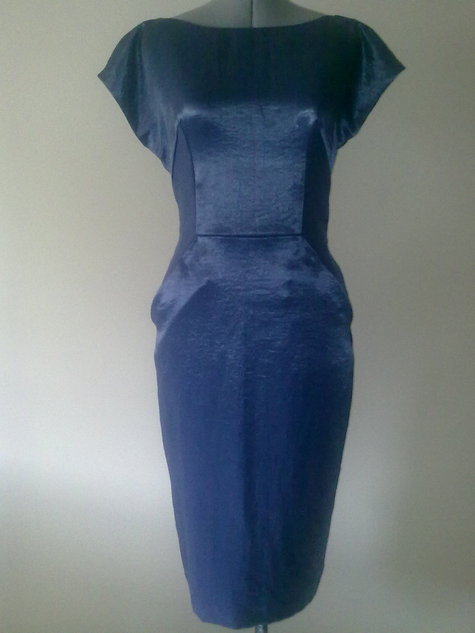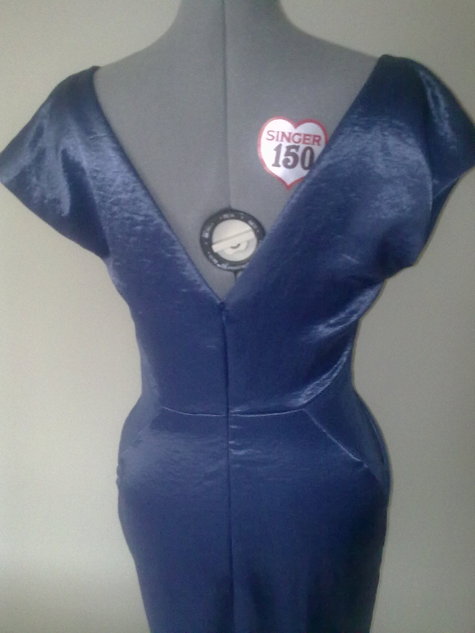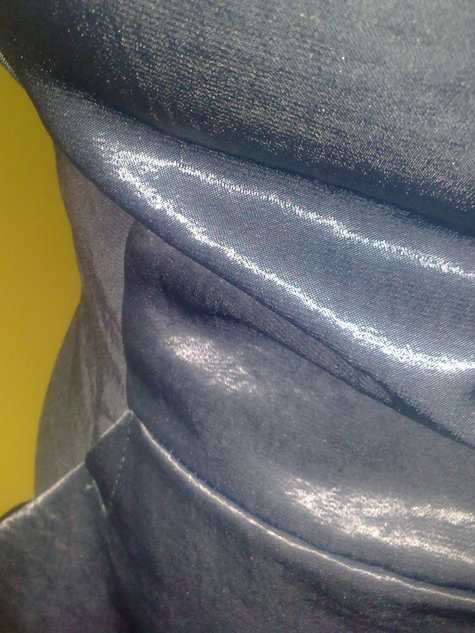 I hope you enjoyed the post and God bless!