The peplum fashion is taking the world by storm, or so it seems. I am quite fond of this fashion feature on blouses, skirts and dresses; to me it adds classy flair to an outfit. The peplum is also being used in tee shirts which gives a more casual look to the style. We all know how tees have their place in our wardrobe!
Pictured below is a simple jersey top. Such a look is created using gathers at the peplum which fall quite softly about the figure.
The other casual peplum tee below is made using the circle method. It also falls gently down to the hips.
short sleeve peplum top by Green Envelope
I attempted to make a peplum tee out of a jersey fabric. I will show you two looks that can be created with jersey. I much more prefer the stand out peplum looks (see photo of Alexander McQueen peplum top below) created with fabric with more body. I will show you how to achieve such a look with the comfort and resilience of jersey fabric.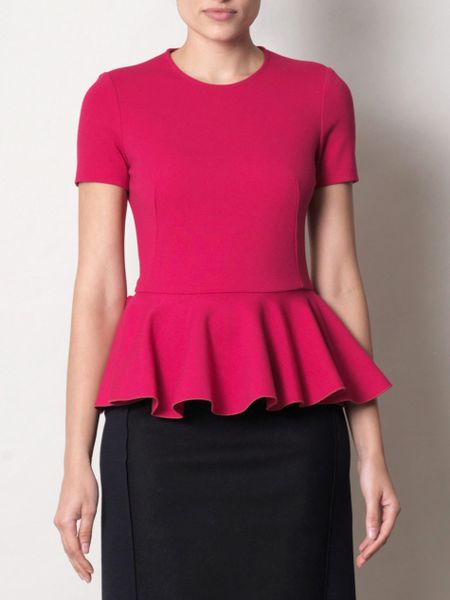 Alexander McQueen Peplum top
To create the top I used the Lydia pattern from Burdastyle for the bodice (cut to waist level) and sleeves. I drafted a full circle peplum to fit the waist size of the bodice. I assembled the pieces and completed the top to all stages except the hem of the peplum. Notice how the peplum falls loosely and without much structure, similar to the first two pictures above.
I then went further to make the peplum stand out a bit more. To do this I used 3/4 inch bias binding along the hem.
The first step is to stitch the right sides of the hem and right sides of the binding together. Only use about a 1/4 inch allowance on the hem. This will prevent distortion of the peplum shape.
After the bias binding has been attached all the way around it is then folded over towards the back of the garment and pinned. The bias binding will be completely on the reverse and will not be seen from the front of the garment.
Stitch the biased binding flat all the way around in positions pinned. This would be done on the other unstitched furthest part of the bias binding.
This is the final result. of the jersey top with the ends binded. It looks more flared with this method and it makes a plain jersey peplum top more outstanding. The peplum does not fall as gently as in the earlier photos.
I hope you enjoyed the post, God bless!