Hello all,
A couple of times now I have been nominated for some awards going around on the online sewing community. Today I will finally claim them :) I will be making a couple tweaks to try to claim two different awards in one post so here goes!
I got the Liebster award from Sally at
The Quirky Peach
and from Danielle at
One Small Stitch
. Two lovely ladies and sewers indeed!
I also got awarded the Versatile blogger award by
Kyla of Finzo 43P
who I have come across for the first time but has a wonderful collection of stitched items that aren't just clothes. She also has two sweet dogs that I want to play with.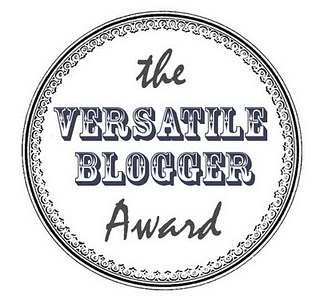 Thank you ladies!
The Liebster Award rules:
Link back to the blogger who nominated you
Write 11 random facts about yourself
Answer the 11 questions asked by the blogger who nominated you
Nominate other blogs and do likewise
The Versatile Blogger Award rules:
Thank and link back to the person who awarded you
Share 7 things about yourself
Nominate 15 other versatile bloggers and inform them
Here goes......
About myself:
I live in the Caribbean, Trinidad and Tobago to be specific.
I've studied in Grenada and in London and so I'm a pretty international girl.....lol
Speaking of studies I'm really a scientist that loves to sew. I am a microbiologist when I'm working and I a Medical/ Vet Microbiology student when studying
At the moment I'm studying
I'm a Christian and a full gospel one at that. I like to sing loudly and dance crazy to express my praise and appreciation to God. (crazy Pentecostal)
I love to bake cakes and cookies and anything sweet
I can tap dance and it's my favourite type of dance
I like to go to the beach and I love to swim in it!
I am married to a great guy :) blush blush
My favourite fruit is Mango
I am my daddy's most favoured child.... haha
Questions from Sally and Danielle answered:
My most favourite thing ever sewn was a tie dye dress I made when I was about 15 to go to a Kirk Franklin concert here in Trinidad. It was one of my first successful makes.
I tend to sew more for others.
I love the greenery where I live, so may trees! I can't get enough.
I don't usually listen to music when I sew. My mom thinks I'm crazy to sit sewing for hours with just the noise of the sewing machine in my head. The truth is though I'm always thinking so it doesn't seem so bad.
My dream sewing project is a wedding dress for someone else.
I started sewing from a tender age of about 10.
My favourite fabric to sew with is anything with cotton. It's so much easier to work with.
If I get in a sewing funk I go out and buy fabric. That usually fixes the problem.
If I could be any ficticious character I would be Captain Planet :) I want to save the earth.
Green vegetables are always on the top of my grocery list........and chicken.
My biggest fan is my friend Krystle. She believes I can sew very well and she's always promoting me even though I don't think I'm that good.
My best holiday ever was...well there are two. One was with my friend Crystal to a place I was already at- Grenada and to a little island called Carriacou. Another great holiday was with my hubby to the UK, the company is what made it great because again I was there already.
Sewing comes easily to me.
The favourite thing about my home country is the lovely outdoors where I live.
I'm a morning bird.
My first crush was......hummmmm
Before I die I would like to go to Italy and I would like to have a dog of my own.
My husband makes me laugh.
The best decision I ever made was to flee the nest of my mother and father for it made me a better person.
I am most afraid of unstable people.
Genie wishes.........hummmmm
The most essential thing I'vve learnt this far is that what the world portrays as important is not what's really important.
For the continuity of this I will be nominating folks for the Versatile blogger award. Up for this award are:-

It's quite difficult to come across new blogs but lets do what we can to promote one another when we do.

Take care and I'm hoping to post very soon!